The new version of our online boat maintenance book is OUT
Our online boat maintenance book has a brand new look. It's better looking, it's easier to use. Whether you are a Master Yacht Services customer or not, signing up and using it totally FREE so please go and check it ou by clicking here.
So what's new?
1 – YOU CAN NOW VIEW THE SITE ON YOUR MOBILE AND TABLET
It was one of the most annoying drawbacks of the old version: it was unusable from your phone. Those days are gone! Even though there is still optimizations to achieve, you can now access all the features from your smartphone and thus from your boat!
2 – THE MAINTENANCE PLAN BECOMES "THE JOB-LIST"
Many of you are doing the jobs yourself aboard on your boat. You then use your owner area of the site to list and keep track of the different things to do. To make this easier, intuitive operation, we have replaced the old section "Maintenance Plan" by a "JobList",
directly accessible from your dashboard and more in synergy with the rest of the sections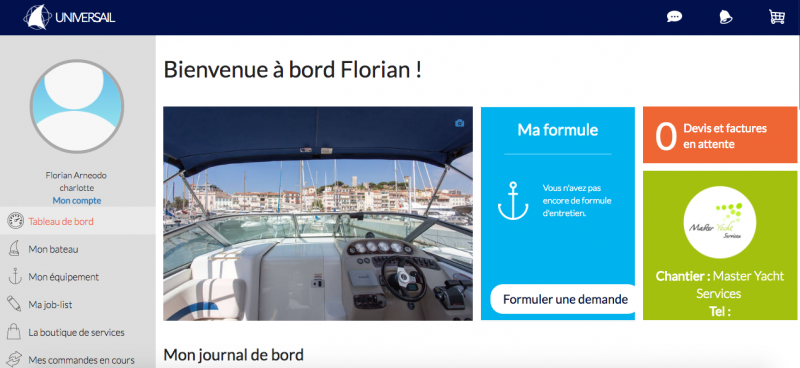 3 – THE INVENTORY I MORE FLEXIBLE AND COMPLETE
To accommodate the greatest number, we developed the Inventory, real pillar of your UNIVERSAIL space . Simplification of entry, sorting and filter options, simultaneous editing of several lines: inventory has evolved significantly in order to be always at the ready in reality!
4 – NAVIGATION THROUGHOUT THE SITE IS EVEN MORE SIMPLE
A still visible side menu now allows you to never get lost amid the many sections of your space  owner. Whether to manage your personal information, interventions on board or under discussion quote: everything is now accessible in one click!
5- A NICER HOME PAGE
You can now upload a photo of your boat on the home page but also your photo. Go to the gallery section on your boat "my boat"
CHECK IT OU NOW